WALKS AND OTHER ACTIVITIES
Pony rides: It lasts half an hour and is accessible for children from 3 years to 12 years. This pony trek is not supervised by a monitor, the children must be accompanied by an adult.   Prices : 12.00 €
Horse ride : Our horse rides last one hour and are accessible from 12 years. They are supervised by certified instructors and take place mainly in the forest.
Warning: Provide suitable equipment (trousers and walking shoes, sneakers or boots with heels)
Prices : 1 person privatized: 100.00 €
1 person: 60.00 €  for 2 people: 30.00 €
from3 to 8 people: 20.00 € per person
Horse-drawn carriage rides: We propose two types of walks: A walk of half an hour to discover the site of DéfiPlanet '. For this ride, it will require a minimum of 4 people registered, maximum 10 adults and 2 children per half hour.
Reservation required
Prices : 5.00 € / child under 13 years 9.00 € / adult (13 years old and over)
A walk of one hour to go a little further to the discovery our region.
For this ride, there is no minimum staff, however there will be a maximum of 10 adults and 2 children. Reservation required
Prices : Starting from 99.00 €
Discover our equestrian pass
We propose to share a moment between friends or family and to benefit from varied equestrian activities.
Alone or to share, our Equestrian Pass can only be used during the school holidays and includes:
1 Horse Riding

1 Pony trekking

1 Pony Games

1 entry to DéfiPlanet 'The Parc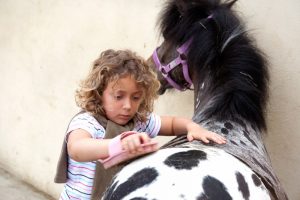 The activities mentioned above may be used by several people as a non-nominative ticket for each activity will be published and given to the buyer of the pass. Tickets are valid for 12 months.

Prices : 49.00 € if booking the pass on the same time as the accommodation
59.00 € on the spot , up to 35% discount on the unit price.
During school holidays, DéfiPlanet 'offers to share a moment between friends or family and to enjoy the ponies by games that we have set up for you.
Activity alone or in pairs (depending on the number of participants)
For children from 3 to 12 years old   Duration: 1h30 with approach, grooming, preparation, games, pony care and equipment storage Examples of games: 1,2, 3 Pony, Ponies get out, Conductor ...
Rate : 18.00 € per child
Riding lessons & Horseback riding
Riding lessons
During the summer season, classes are held three times a week (Monday, Wednesday and other variable days).
Prices : Private lessons (up to 3 people) 1h00: 57.00 €
Shared courtyard (from 4 persons) 1h00: 19.00 € per person
Horseback riding

The themes of the courses vary with each school holiday, with discovery days for beginners, introductory days and federal exams. We adapt to the demand, the desires and the levels of each.   Prices : Half-day course (2 hours): from 30.00 € Stage day (5h00): starting from 47.00 €